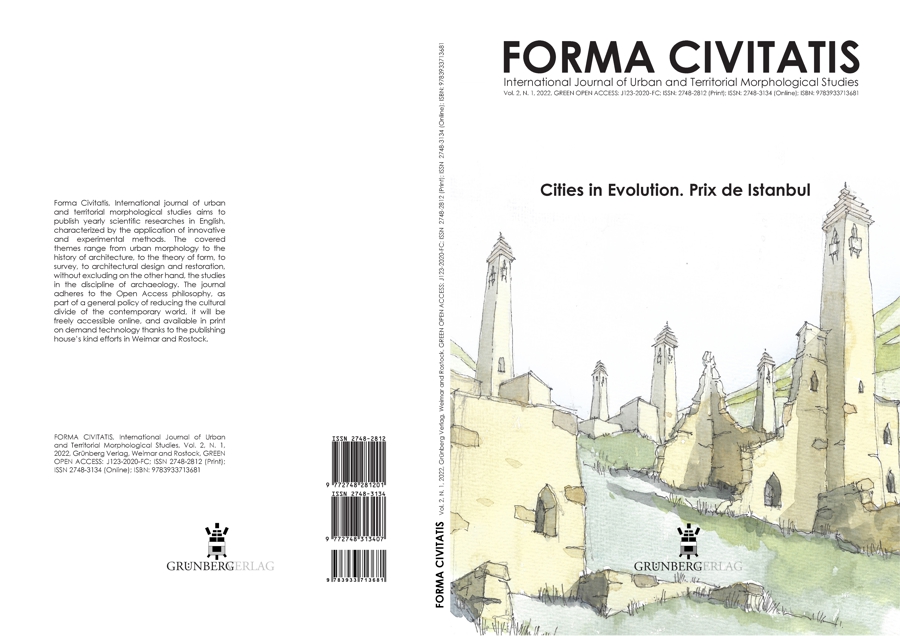 Cities in Evolution. Prix de Istanbul
Alessandro Camiz, Giorgio Verdiani, Martin Ebert (eds.)
FORMA CIVITATIS, International Journal of Urban and Territorial Morphological Studies, Vol.2, N.1, 2021, Grünberg Verlag, Weimar and Rostock, GREEN OPEN ACCESS: J123-2020-FC; ISSN 2748-2812 (Print); ISSN 2748-3134 (Online); ISBN: 9783933713681
Selected papers from the VIII AACCP symposium CITIES IN EVOLUTION. DIACHRONIC TRANSFORMATIONS OF URBAN AND RURAL SETTLEMENTS (Istanbul, April 26th-May 2nd, 2021).
---
FORMA CIVITATIS
International journal of urban and territorial morphological studies; Grünberg Verlag, Weimar-Rostock, http://www.grunbergverlag.de/; Print ISSN: 2748–2812; Online ISSN: 2748-3134
This work is licensed under a
Creative Commons Attribution 4.0 International License
.
For all the licenses authors of papers published in the journal retain the copyright and full publishing rights without restrictions .
---